Welcome!
      Overeaters Anonymous is a global 12-step fellowship with a solution for those with a problem with food – no matter what the problem – compulsive overeating, under-eating, food addiction, anorexia, bulimia, binge eating, or over-exercising.  MORE
The NYS Capital District Intergroup coordinates activities and provides support to OA members and groups within the broader NYS Capital District including those in Queensbury, Glens Falls, Saratoga, Saranac Lake, Granville, Clifton Park, Greenwich, Johnstown, Schuylerville, Schenectady, East Greenbush, Delmar, and Albany. Bennington and Arlington Vermont are also included.
More information about Intergroup is found in our IG-Brochure .
Is OA for you? Take our QUIZ .
Interested and looking for a MEETING ?
Want to talk to someone about OA?  Call our information line at 518-292-0666
Already a member and looking for the latest news?  Please visit our NEWS page (Last Updated May 14, 2018) for information about recent meeting changes and upcoming regional events.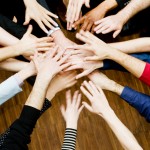 "I put my hand in yours, and together we do what we could not do alone."
Privacy Policy
This OA Intergroup web site is for the exclusive use of its constituent meetings and members, as well as others who desire to stop eating compulsively. Please respect the privacy of all contact information by refraining from using such information for any non-OA related purpose, whether personal or commercial.